THE RICH CULTURE OF PAPUA NEW GUINEA
THE RICH CULTURE OF PAPUA NEW GUINEA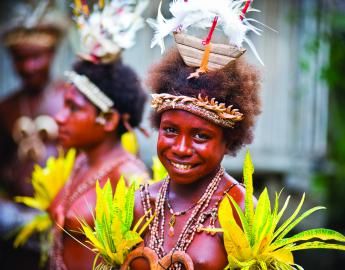 Papua New Guinea is like nowhere else in the world, rich in culture with amazing underwater scenery for divers and snorkelers, there's also trekking and incredible bird watching, and the country is famed for its Birds of Paradise.
Add to this over 1000 different tribes who between them speak more than 800 languages, comfortable lodges and warm and friendly people and you have a fantastic mix of experiences.
Re-Imagine The Destination You Thought You Knew
When the tourist board asked people what they think about Papua New Guinea, and most said they thought it consisted of remote tribes, coconut trees and even cannibals!
However, it would seem they have overlooked the unique experiences that most tourists have never imagined - including vivid festivals, delectable dishes, underground events, plantation tours, and hidden secrets found far off the beaten track.
For example, Ela Beach is the site of one of the world's first beauty pageants while visitors can scuba dive with migrating killer whales in West New Britain. By going beyond the guided tours and venturing past the tourist landmarks, the more intrepid travellers will soon realise there's so much more to see, taste, and do in the land of a million different journeys..
License this feature
The body of this feature has been restricted...