BRADLEY WALSH GOES POP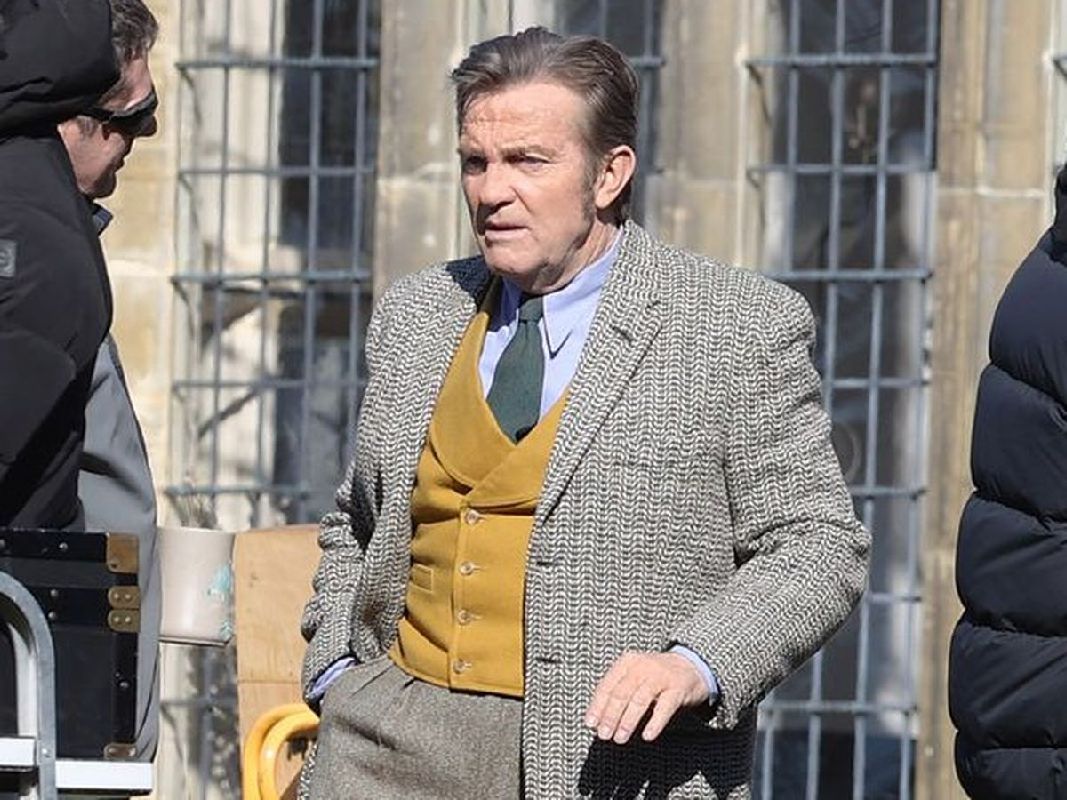 Bradley Walsh barely has a day without being on the television somewhere – 'The Chase', 'Beat The Chasers', 'Blankety Blank' and more – recently taking the leading role in the updated version of the TV Series, 'The Larkins'.
The show was adapted from the books by H. E. Bates, which are about a family who moved from London to a beautiful farm in Kent just after the war .
Pop Larkin, played by Bradley, is a bit of a wheeler dealer and a huge family man. Bradley explained that they tried to stick as close to the original books by H.E. Bates as possible.
'The scripts were beautifully written and adapted by Simon Nye, ' he said.
Being set in a different era, did the show tell us anything about our lives today?
'This was a big family values show –about caring, worrying and loving all about your nearest and dearest. Which in these strange and worrying times we've all had recently seems to be more prevalent and has become more important than ever. I think that brought a lot of people closer together and they've realised how much they miss people in their lives and to stop rushing around, stop chasing and spend time, more time with your family.'
Bradley added that the show took the audience back to the days when none of that rushing around existed, there were no mobile phones, there was no internet, when you needed something, you had to go and ask them (face to face).
'I think we can learn a lot from looking at a family like this, we could learn an awful lot from the Larkin's.'
He said that Pop Larkin is the kind of man you'd like to spend a day, an evening, a weekend with in the pub. If you want anything, he can get it - he's always looking for a deal. And why not?
'He cares about his family, he loves his family being around him, he loves the fact that he's the sort of Dad you'd have wanted as well, for example he lets his kids drive this truck! He loves and adores his wife Ma, and he loves everyone he really does, he actually says it as a line in the script, you know I love everyone and I think everyone loves me. He is a genuinely, genuinely nice man, there's not a bad bone in his body. '
Pop's relationship with Ma is that they've known each other since they were kids, and they've grown up together, they have exactly the same ideals, the same values, the same ambitions and the same aspirations, they love their family life, they love the farm life and they love life.
'Pop can be a womaniser in the fact that he loves the female species, he's so charming. His relationship with Ma is so firm and so solid she doesn't mind his odd flirting. I think what that tells you about him, from that side of their relationship, exudes into the community, so what he does, he will take someone a bottle of whisky or a bottle of brandy, as a softener for anything that he's got going on. And I think that endears him to everyone, and he's the giver of great advice.'
Bradley said he loved playing Pop because he's never had the chance to play someone quite like him before.
'To play this guy who's laughing all the time and laughing with his family, having fun with his wife and his children and the whole community, and to see him say to everyone, come on, do you know what, we'll have a fun, it's just a wonderful thing to do, it really is. '
The period of dress was a great pull for Bradley, as was the opportunity to drive all the old cars in the Kent countryside.
'The joy of shooting here in Kent is the fact that this is where the books took place, so you get an affinity with it and you get a real feel for it. I think the farm we're working on has a good couple of hundred, three hundred acres maybe, it's beautiful. The interiors are the true inside of the farmhouse, it's so lovely. '
He added that The Larkin's was a warm show, that's beautifully shot with lovely warm colours on screen.
'It was just like living in the 1950s again.'
License this feature
The body of this feature has been restricted...